NLP TRAINING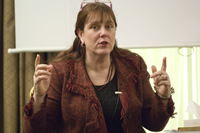 Tina conducts NLP trainings in conjunction with Steve Crabb. Like Tina, Steve is a Master Trainer of NLP who has a close working relationship with Paul McKenna and Richard Bandler. That makes their partnership the only opportunity you have in the UK to train with two Master Trainers of NLP.
Other advantages? Small group training gives maximal opportunities for personal engagement with the trainers. And trainees are encouraged to follow up their courses with NLP Masterclass, the practice group that Tina and Steve run. Plus, you'll get to experience the kind of coaching you can tap into further if you come to a mentoring arrangement with Tina, a chance to bridge your support from training into real world scenarios.
Between their experience with global thought leader Richard Bandler and internationally renowned hypnotist Paul McKenna, their varied work in the business world, and the thousands of people they've helped to move on in their lives, Tina and Steve have a winning synthesis of skills and attitudes that will make all the difference to your personal evolution and success.
"Tina Taylor and Steve Crabb: what a fantastic combination. I've known both of them for several years, during which I've been lucky enough to experience coaching from each of them, as well as watching them train and coach others. Both Tina and Steve are highly skilled, and with their quick wit manage to not only simplify whatever needs to be taught but also teach it in such a fun way that the skills learned tend to stay with you forever."
Sue Pullen, NLP Trainer
"I just wanted to say thanks for everything on the course so far. Until recently (last week!) I hadn't had the confidence to use what I'd learned with patients but with the approach you've used it's all started to come together and I've started doing bits at work, and I'm excited to be thinking about how I can help our patients with their difficulties. What I've learned from you has really improved my life, eg at work I can do things that I really enjoy doing, but in the past would have been too scared to have put myself forward for. So THANKS!!!" - Gail, M.D.
For more information visit www.Aventesi.com
or contact Sarah Tonin for more information.